IQOS HEETS Amber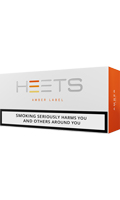 £ 48.83
*
/ $ 62.00
* price in GBP is rough due to
USD exchange rate
| | |
| --- | --- |
| Box Type | Heets Box |
| Count | 200 |
| Flavour | Sticks |
| Minimum Cartons | 3 |
| Packs | 10 |
Disclaimer: actual design and health warnings may differ from the photos on the website depending on the country where the product is manufactured.
Amber Label HEETS have proven to have the taste of special roasted tobacco with light woody and nutty notes, as the original description says. This taste is creamier than the previous Yellow label. If the first one was about 1, then this is more likely a triple.
Smokers who have just switched to IQOS will not be able to catch light woody or nutty notes from the start. It's just a more or less strong taste, very remotely similar to the taste of cigars, or cigarillos. In principle, suitable for daily use, casual smoking. The first puffs give a little "throat hit" and then comes simple smoking and saturation with nicotine, which is the thing you later get accustomed to.
Dark orange flag color in determination of HEETS Amber stick is actually not related to flavoring. In the inhaled mixture, the smoker will only experience a tobacco aftertaste. This flavor is rather strong, that's why experienced IQOS users recommend HEETS Amber sticks for those who switch from regular cigarettes to a new way of smoking.
Other types of tobacco may not satisfy the novice IQOS user, as they do not have sufficient strength and may seem too chemical, however it's a matter of habit. But on the other hand, some IQOS smokers consider the strong tobacco taste a lack of Amber sticks.