IQOS HEETS Purple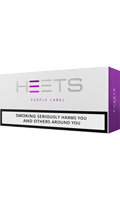 £ 48.83
*
/ $ 62.00
* price in GBP is rough due to
USD exchange rate
| | |
| --- | --- |
| Box Type | Heets Box |
| Count | 200 |
| Flavour | Sticks |
| Minimum Cartons | 3 |
| Packs | 10 |
Disclaimer: actual design and health warnings may differ from the photos on the website depending on the country where the product is manufactured.
Purple Label HEETS represent a tobacco blend with the aroma of menthol and wild berries, you might have guessed from the description. This is one of the most favorite and the second of the daily tastes. Some IQOS smokers alternate it with the Amber Label. From the first puff, it normally hits the throat, then opens with menthol and aftertaste of wild berries. Very pleasant taste, but not for everybody, of course. By the way, most people say that they actually didn't like it in the beginning. At first it seemed a bit weird. But then after some time it gets really pleasant and fine to puff. General opinion is that it is suitable for everyday use.
The pack design is made in purple colors. Sticks for IQOS Purple Label have a pronounced fruity aroma with a light mint note. The original combination pleasantly diversifies the smoking process. Pleasant coolness, a taste of blueberries and currants, a touch of tobacco - this blend distinguishes purple cigarettes from the entire HEETS product line.
The purple stick has a strong berry aroma. You can catch the notes of mint and currant. As for the taste, it is pleasant and quite balanced. Not as minty as a menthol stick, not very strong tobacco taste, but according to some it is too aromatic. One way or another, it can be considered the best in the lineup.