IQOS HEETS Yellow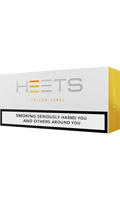 £ 44.69
*
/ $ 54.00
* price in GBP is rough due to
USD exchange rate
| | |
| --- | --- |
| Box Type | Heets Box |
| Count | 200 |
| Flavour | Lights |
| Minimum Cartons | 3 |
| Packs | 10 |
Disclaimer: actual design and health warnings may differ from the photos on the website depending on the country where the product is manufactured.
HEETS Yellow Label is usually the first taste of stick that people usually try at IQOS stores when they buy it. Some get so caught up, that even buy multiple packs. This is the weakest of the non-menthol tastes. In the original description it advertises the flavor as soft and fragrant tobacco blend with spicy notes. In fact, you kind of cannot compare it with anything, because it's not a usual cigarette. It probably feels like a single cigarette, that is super light plus has almost no smoke. It doesn't tear your throat, but it seems you are smoking. For smokers with experience, most probably this taste will not work, as it is too weak.
The valve on the pack and the letter "E" in the name is yellow. Yellow Label, like Amber label sticks, do not contain flavor modifiers, but are inferior to them in strength. Sellers in stores recommend this particular type as a 100% analogue of regular super light cigarettes.
But this is more of a marketing move, because IQOS smokers disagree with this opinion. Despite this, most users are satisfied as an everyday option, not an occasional one. If you were a super lights cigarettes smoker, this choice is perfect for you.