IQOS HEETS Turquoise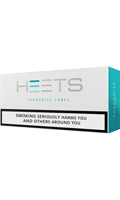 £ 50.88
*
/ $ 62.00
* price in GBP is rough due to
USD exchange rate
| | |
| --- | --- |
| Box Type | Heets Box |
| Count | 200 |
| Flavour | Sticks |
| Minimum Cartons | 3 |
| Packs | 10 |
Disclaimer: actual design and health warnings may differ from the photos on the website depending on the country where the product is manufactured.
Turquoise Label HEETS is a menthol chill and a velvety tobacco blend with delicate spicy notes, marketers are willing to get more and more. This is the simplest menthol stick. Reminds simple menthol cigarettes. Mostly they say that there's a bit too much menthol here, but not enough tobacco flavor. Therefore, these sticks are suitable only to indulge. It is impossible to smoke them constantly, some inexperienced users could stretch the pack for a week, alternating these sticks with Amber Label or Yellow label. But this taste has a plus, it is great in the early stages of switching to IQOS, as it gives a noticeable taste and closeness to the sensations of an ordinary cigarette.
The turquoise color of IQOS generally indicates menthol supplement in tobacco. Light, with a rich mint flavor, Turquoise Label HEETS sticks are chosen by those smokers who like a feeling of freshness without a distinct tobacco aftertaste. And for those who cannot find menthol cigarettes on the market.
Imagine a deep menthol taste with pleasant notes of tobacco, this combo is perfect for menthol lovers, since it's hard to get those in shops right now.
These Turquoise Label HEETS sticks have a pronouncedly menthol flavor. In general people say that this menthol even has a little bitterness like pepper mint or sort of. You'll not find a super strong tobacco flavor, which is also appreciated by the menthol cigarette smokers.