IQOS HEETS Green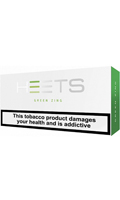 £ 48.83
*
/ $ 62.00
* price in GBP is rough due to
USD exchange rate
| | |
| --- | --- |
| Box Type | Heets Box |
| Count | 200 |
| Flavour | Sticks |
| Minimum Cartons | 3 |
| Packs | 10 |
Disclaimer: actual design and health warnings may differ from the photos on the website depending on the country where the product is manufactured.
HEETS Green Zing are now available in our online store. Per the description from the manufacturer this new stick label is intense and combines cooling menthol enhanced with fresh citrus and herbal notes.
The coolness is very plausible. The menthol normally freezes the throat and goes well with citrus fruits (here, apparently, the lemon peel and some hint of an orange). If you really go into the taste of wilds, you can see something like ginger. Anyway, the buzz is great!
A lot of people say that these HEETS Green Zing offer a taste of frosty menthol, simultaneously revealing spicy citrus notes. According to personal feelings of most of the smokers, these are the most successful menthol sticks from the entire HEETS line. Even those who do not like menthol, these sticks did not leave them indifferent. This is not a nuclear menthol of such sticks like Purple and Turquoise, the saturation of menthol in these sticks is more acceptable, plus citrus notes are almost intangible and soft.
HEETS Green Zing are sold in light green packaging. According to the customer reviews, it feels more like a Turquoise Label with only less additives. All in all, good sticks with a pleasant taste. Considered the best among other menthol options.